Skip to Content
Motorized Window Treatments in Tucson, AZ
Modern Window Treatments from B & D Custom Blinds
At B&D Custom Blinds, our customers' window dressing needs are our top priority. Motorized window treatments offer style, convenience, and efficiency for Tucson, AZ homeowners. Operating your blinds, shades, draperies, or shutters manually is inconvenient. The constantly moving sunlight in Arizona can make this a difficult task, but motorized solutions from Hunter Douglas are the answer to your problems. Our automatic operations systems allow you to adjust the settings to accommodate your light control and privacy preferences throughout the day at the touch of a button. We offer various motorized solutions in battery-operated and hardwired options that function from a remote or wall switch. When your home has motorized window treatments, it's easy to protect your furniture, fabrics, and artwork from the damaging effects of sunlight. We offer PowerView® Automation from Hunter Douglas. This solution uses wireless technology to adjust your window treatments by tapping a button or using your mobile device. This automatic solution integrates perfectly into your connected lifestyle, providing a new level of ease and convenience. Learn more about our motorized window coverings and contact us today for a free estimate.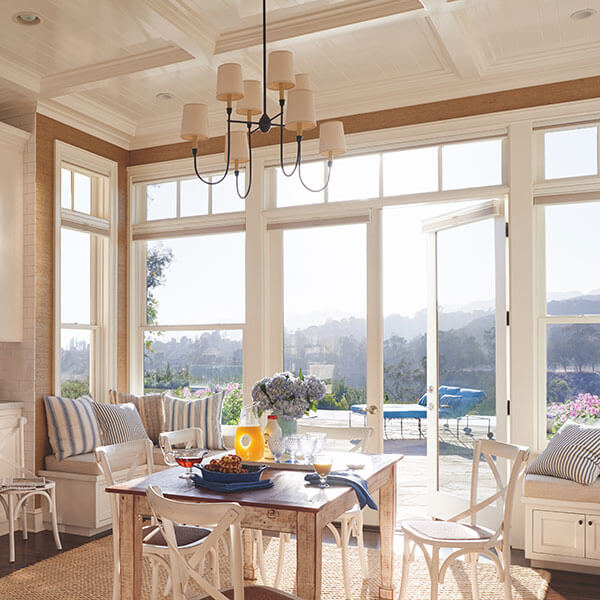 Choose PowerView® Automation Window Treatments
PowerView® makes it easy to control light with new wireless technology that provides better reliability, two-way communication, and increased radio frequency range. You can even create personalized shade settings known as Scenes in one or more rooms. It's easy to adjust your window treatments at any time and from anywhere by using the RemoteConnect feature. The PowerView® Hub is a single unit, allowing you to seamlessly integrate the motorized window treatments into your home automation. We're proud to offer Hunter Douglas products that combine fashion and function with the PowerView® Pebble Remote. The Pebble Palette is available in seven on-trend colors designed to complement your interior décor. Homeowners can choose a wall-mounted control unit with the PowerView® Surface Remote. This remote fits any wall and is available in attractive color options. With the PowerView® App, you'll get a personalized experience with a simple setup. You can use this app on your Android or Apple iOS mobile devices.
The Benefits of Motorized Window Treatments
If you're looking for window treatment ideas in Tucson, AZ, you will do well to consider motorized window treatments. The team at B & D Custom Blinds installs motorized window treatments and all types of modern window treatments. Learn more about the benefits of motorized window treatments:
Optimize your home's energy efficiency by scheduling the operation of your window treatments
Set the mood in your home and transform light at the touch of a button or the tap of your mobile device
Create a safer environment for young children and pets with PowerView® Motorization
Motorized window treatments are the ideal solution for newly constructed and existing homes
Choose from battery and plug-in options
PowerView® Pebble Remotes are ergonomic and feature push-button control, favorite position functionality, and more
Why Choose B & D Custom Blinds?
We're proud to offer intelligent shades that simplify your life. If you want the perfect ambiance morning, noon, and night, choose our team to install your motorized window treatments. B & D Custom Blinds is Tucson's window treatment specialist. We're a family-owned small business serving the local community and their window treatment needs. Our team sells, installs, and repairs durable and fashionable window treatments. We're bonded, licensed, and insured, and our installation experts are highly trained and experienced. We offer other exceptional products and services to cover your windows, including blinds, shades, shutters, drapery and valances, and more. Check out our customer reviews, and feel free to add your own. Our team can also create custom window coverings for any type of window in your home.
Schedule a Visit to Our Showroom
B & D Custom Blinds is ready to help you set the mood in your home and transform light by pressing a button on a remote or mobile device. Schedule your window treatment operation with PowerView® Automation, the perfect solution for light control in existing and newly built homes. Contact our team today to schedule an appointment at our showroom. We will gladly show you what our motorized window treatments can do for you.
Enhance Your Space with Custom Window Treatments