Skip to Content
Wooden Mini Blinds in Tucson, AZ
Comprehensive Guide to Mini Blinds by B&D Custom Blinds
When you consider window treatments, mini blinds, available at B&D Custom Blinds, stand out as a versatile option. Located in Tucson, AZ, our company values the multifaceted role of wooden mini blinds in enhancing the aesthetics and functionality of your spaces. Mini blinds, frequently synonymous with Venetian blinds, are composed of horizontal slats joined by a cord pulley mechanism, making them a minimalist yet effective solution to your window needs.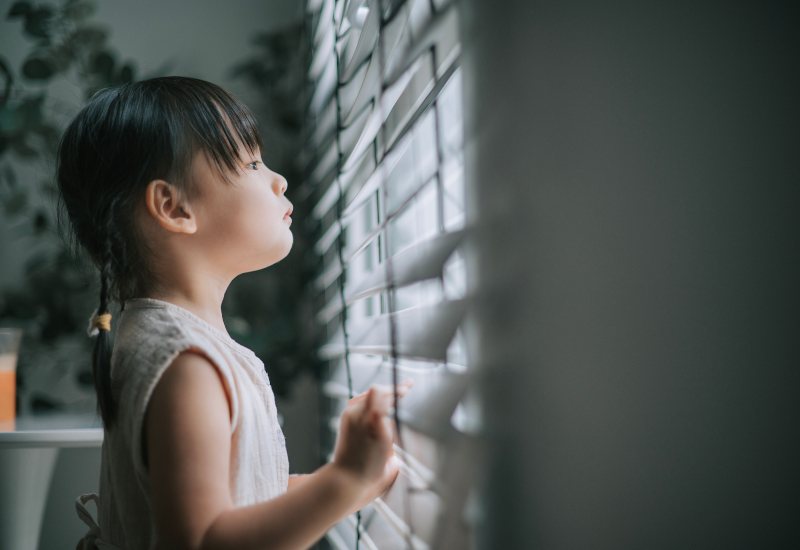 Advantages of Mini Blinds
Control Over Light and Privacy – Mini blinds' adjustable design gives you complete control over the quantity of light and the level of privacy in your room. With a simple twist, you can let the sunshine in or enjoy a serene, private atmosphere.
Energy Efficiency – They also play a significant role in maintaining a comfortable indoor temperature. By reducing the direct sunlight and heat entering your space, mini blinds can contribute to lower energy consumption.
Aesthetic Appeal – Apart from their functional advantages, mini blinds are stylish and fit effortlessly into any interior design theme. Their clean, linear design can add a sophisticated edge to your home decor.
Exploring the Material Options for Mini Blinds
At B&D Custom Blinds, we offer mini blinds in an array of materials to suit your style preferences and practical needs best:
Vinyl Mini Blinds – Vinyl blinds are an economical and durable option. Their high resistance to moisture makes them the perfect choice for areas like bathrooms and kitchens, where humidity levels are high.
Aluminum Mini Blinds – Lightweight yet strong, aluminum mini blinds are long-lasting and resistant to wear and tear. They're a great choice for rooms where you need reliable and durable window treatments.
Wooden Mini Blinds – If you're after an elegant and timeless appeal, wooden mini blinds should be your go-to. They exude warmth and bring a touch of nature to your interiors, instantly making a room feel cozy and inviting.
Diverse Style Options for Mini Blinds
B&D Custom Blinds offers a selection of mini blind styles to match every decor:
Horizontal Mini Blinds – As the most traditional style, horizontal mini blinds work well for regular-sized windows and smaller spaces, providing a neat, streamlined look.
Vertical Mini Blinds – These are ideal for larger windows or patio doors, creating an illusion of height and offering a more contemporary aesthetic.
Cordless Mini Blinds – With no hanging cords, these blinds offer a clean, uncluttered look, increasing safety in homes with children and pets.
Hassle-Free Installation of Mini Blinds
We aim to provide a hassle-free experience when you choose to install mini blinds in your Tucson, AZ, home. Our team of experts is adept at handling everything from the initial measurements to the final installation. We ensure that your blinds fit perfectly and operate seamlessly, enhancing your living spaces without any hiccups.
Maintenance & Care for Long-Lasting Mini Blinds
Maintaining your mini blinds in prime condition is crucial for their longevity and continued functionality. At B&D Custom Blinds, we offer an exceptional mini blinds cleaning service to keep your window treatments looking as good as new. Furthermore, if your blinds require more extensive care, we provide mini blind repair services to ensure they function optimally at all times.
Why B&D Custom Blinds Is the Preferred Choice
Choosing B&D Custom Blinds means opting for top-quality products, a wide selection, and exceptional customer service. Our dedicated team is committed to assisting you in finding the perfect mini blinds to transform your space. We pride ourselves on our comprehensive approach that goes beyond selling blinds — we aim to help you create an environment that reflects your lifestyle and elevates your home decor.
Contact B&D Custom Blinds
Are you ready to transform your home with our fantastic range of mini blinds? Get in touch with B&D Custom Blinds in Tucson, AZ today. Our team is eager to guide you through the selection, installation, and care of your mini blinds, ensuring a seamless and rewarding experience.
Enhance Your Space with Custom Window Treatments