Skip to Content
Motorized Window Treatments
Motorized Window Treatments for Tucson, AZ Homes
B & D Custom Blinds makes our Tucson, AZ customers' window dressing needs our top priority, and motorized window treatments offer modern style, convenience, and efficiency. Instead of operating your blinds, shades, draperies, or shutters manually and wrestling with the constantly moving sunlight, the motorized solutions from Hunter Douglas do the work for you. These automatic operation systems let you adjust the settings to accommodate your light control and privacy needs throughout the day at the touch of a button. We provide various motorized solutions in battery-operated and hardwired options that function from a wall switch or remote. With motorized window treatments, it's never been easier to protect the furniture, fabrics, and artwork in a room from the damaging effects of sunlight. One solution we offer is PowerView® Automation from Hunter Douglas, which uses wireless technology to adjust your window treatments by tapping a button or using your mobile device. This automatic solution integrates perfectly into your connected lifestyle and provides a new level of convenience and ease.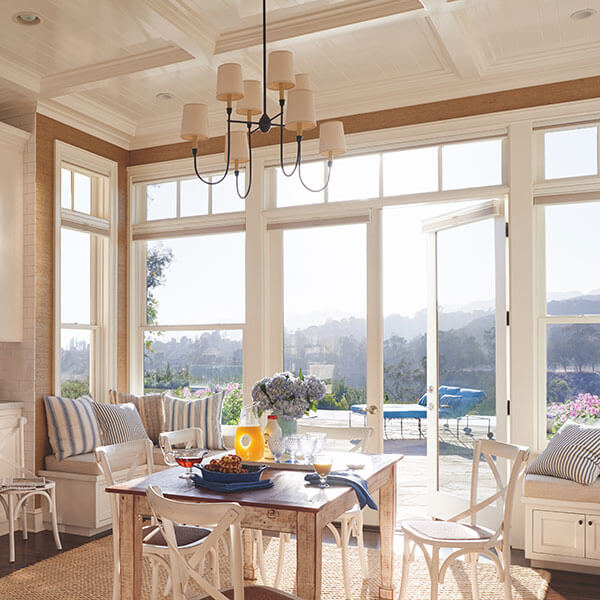 Duette® window shadings by Hunter Douglas
Get PowerView® Automation for Custom Motorized Window Solutions
PowerView® makes light control easier no matter where you are using new wireless technology for better reliability, two-way communication, and increased radio frequency range. You can create personalized shade settings known as Scenes in one or multiple rooms, and it's easy to adjust your window treatments at any time and from anywhere using the RemoteConnect feature. The PowerView® Hub is a single unit that allows you to seamlessly integrate the motorized window treatments into your home automation. Hunter Douglas has combined fashion and function with the PowerView® Pebble Remote, and the Pebble Palette is available in seven on-trend colors to complement your interior décor. You also have the option of a wall-mounted control unit with the PowerView® Surface Remote, which fits any wall and comes in visually pleasing color options. With the PowerView® App, you get a personalized experience with a simple setup. You can use this app on Android and Apple iOS mobile devices.
Schedule a Visit at Our Showroom
B & D Custom Blinds will help you set the mood in your rooms and transform light by pressing a button on a remote or mobile device. Schedule your window treatment operation with PowerView® Automation – a perfect solution to light control in existing homes and newly built homes. Contact us today to schedule an appointment at our showroom, and we will gladly show you what our motorized window treatments can do for you.
Enhance Your Space with Custom Window Treatments