Skip to Content
Custom Woven Wood Shades and Expert Service in Tucson, AZ
Elegant Woven Wood Shades and Professional Installation
Looking for a durable window covering with a little extra touch of nature? Want something unique to fit your décor? Take a look at our beautiful and natural woven wood shades! Our line of ProvenanceÒ Woven Wood Shades helps you bring a touch of the great outdoors into your home in a wide variety of colors, materials, and textures.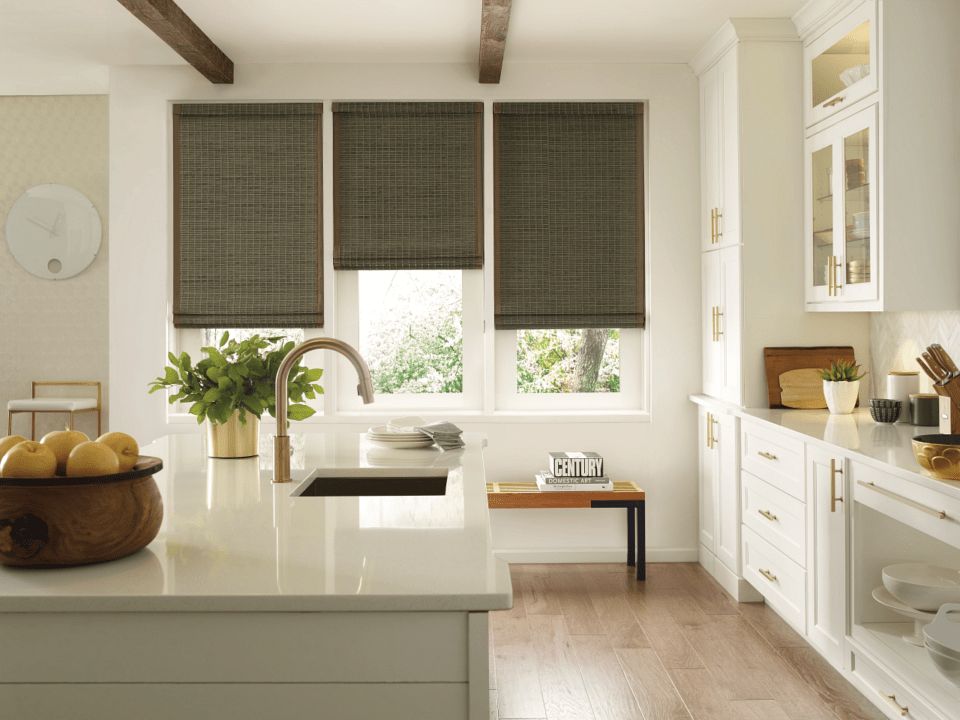 Woven Wood Shades Bring an Organic Style to Any Room
We have over 80 different combinations of materials and textures for your personalized woven wood shades. Materials include a variety of woods, reeds, grasses, and even bamboo for a rustic, cozy, and warm feeling in your home. And there are plenty of different colors to match the furnishings in every room. You can also choose our woven wood shades in several styles, including Roman shades, dramatic waterfall Roman shades, and even vertical drapery styles.
Woven Wood Shades Are Ecofriendly
If you are looking for window coverings that are made using sustainable methods, these woven shades are a perfect choice. The organic materials are all renewable! Enjoy the ambience of woven shades while knowing you are doing something good for the planet. Your family and friends will notice and agree–beautiful, comfortable, warm, inviting… and sustainable!
You Can Further Customize Your Woven Wood Shades
Want to enhance your beautiful woven shades? You can add an independent liner to allow for flexible light control. You can include an extra accent with a valance or edge banding. Or for the ultimate in both light control and privacy, get a woven wood shade in our exclusive "top-down/bottom-up" design.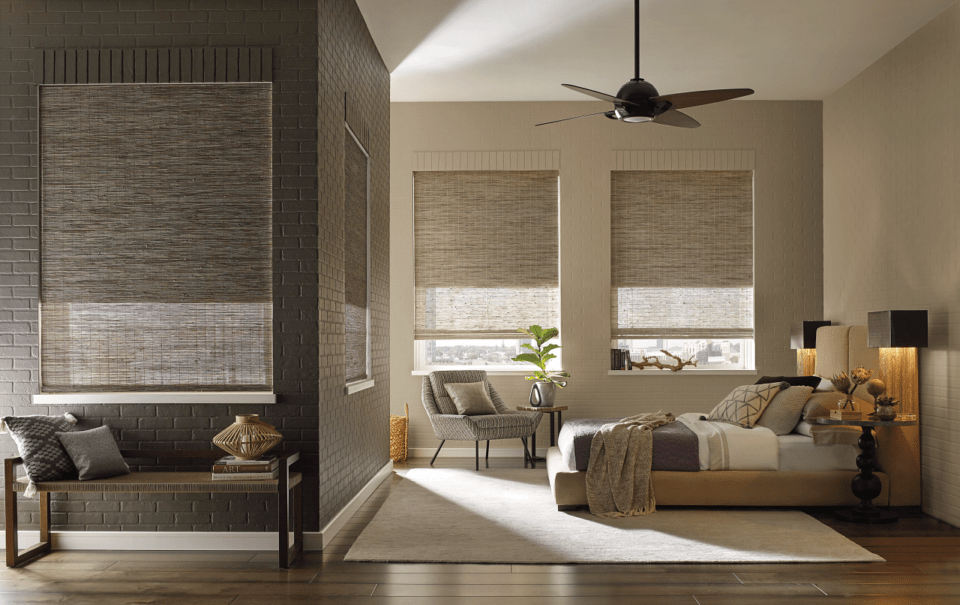 How Do the Woven Wood Shades Operate?
As with most of our window coverings, you have many choices on control systems for opening and closing your woven wood blinds:
The Custom Clutch System operates with a beaded cord loop. You simply pull the cord to raise and lower the shade.
The Cordless System allows you to easily raise and lower the shade with an internal spring-assist control.
The UltraGlideÒ Lifting System uses a retractable cord that always remains the same length, whether the shade is raised or lowered.
For cordless operation, try the LiteRiseÒ System, and you will never have to worry about kids or pets playing with cords. Simply push the shade up and pull the shade down.
Would you prefer a motorized control system? We also offer the remote control PowerViewÒ Automation System.
B & D Custom Blinds: The Best Choices in Woven Wood Shades
B & D Custom Blinds can help you choose the right woven shades for your home. Come to our beautiful showroom in Tucson to see all the choices in materials, colors, patterns, and textures. We have trained experts that will professionally install your blinds. Or we can provide the help you need to install your own. Any time you have questions, from choosing the right window treatment to accurately measuring for your new blinds, just use our online contact page.
Is There Support After the Sale and Installation?
We are always here to help you at B & D Custom Blinds! If your shades are ever damaged, we can repair your blinds at a much lower cost than replacing them. We also offer mail-in repair services if you are no longer in the Tucson area. Stop in and see our elegant collection in our dazzling showroom or give us a call today!
Enhance Your Space with Custom Window Treatments