Skip to Content
Custom Roller Shades and Expert Service in Tucson, AZ
Elegant Custom Roller Shades and Professional Installation
Roller shades are the perfect window covering solution for those wanting a clean and contemporary look. We use only products from Hunter Douglas, the leader in the market with the most stunning selections in window coverings. These roller shades provide the perfect combination of light control, privacy, and protection from ultraviolet light. They operate smoothly and easily, provide coverage with minimal light gaps, and come in a wide variety of fabrics, colors, and styles. Let us help you beautify and add value to your home with roller shades from B & D Custom Blinds!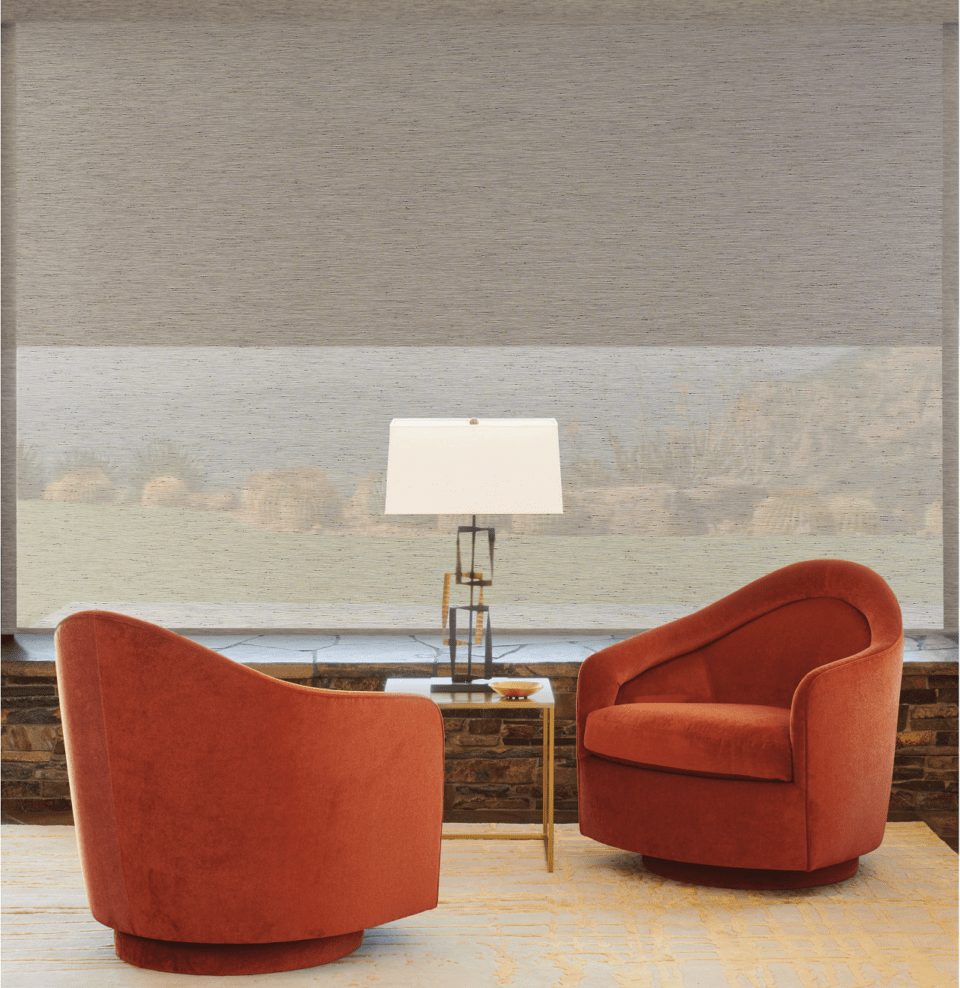 Roller Shades and Roller Blinds Are Versatile and Timeless
Hunter Douglas Designer Roller Shades provide a sleek and minimal look for your home, making them ideal for any room. While roller shades are simple in design, you have over 350 options in your choice of fabric. Choose a sheer fabric to let in the natural light, or a darker fabric for privacy and reduced light. Select from a variety of colors, prints, textures, and patterns. We have something for every décor! These durable roller shades move smoothly and evenly, and will last for years.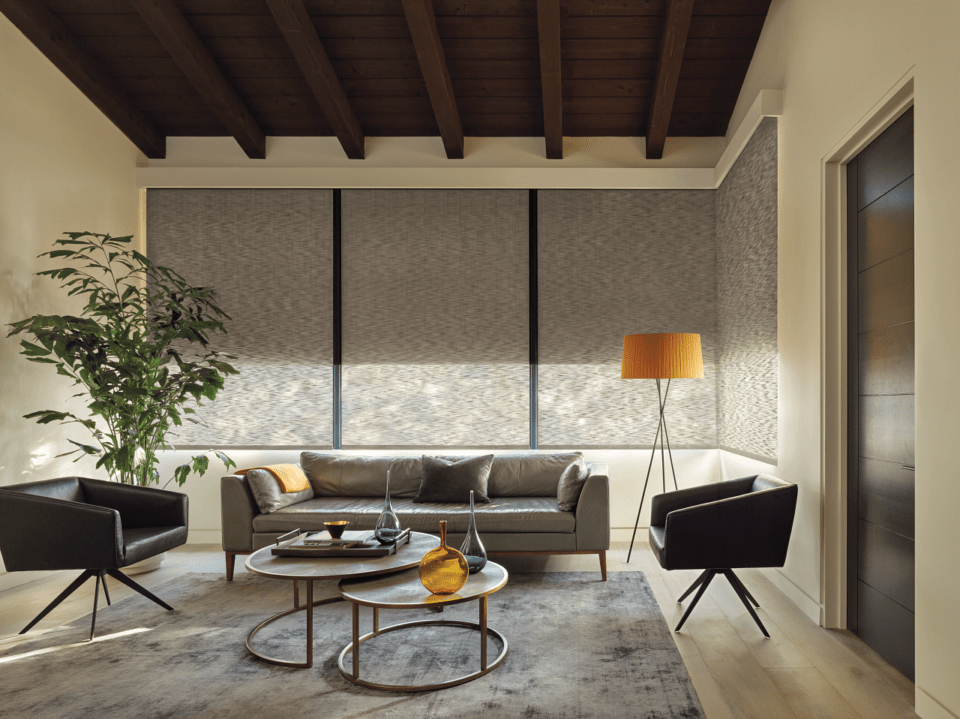 You Can Even Choose TWO Shades in One
We now have options where you can select two fabrics in one custom roller shade! This can be done either with the Hunter Douglas Dual Roller design, or with the Hunter Douglas DuoliteÒ Double Fabric System. Imagine having one shade that provides both a sheer covering that allows for maximum light, plus a dark or opaque fabric that will block light when you want privacy.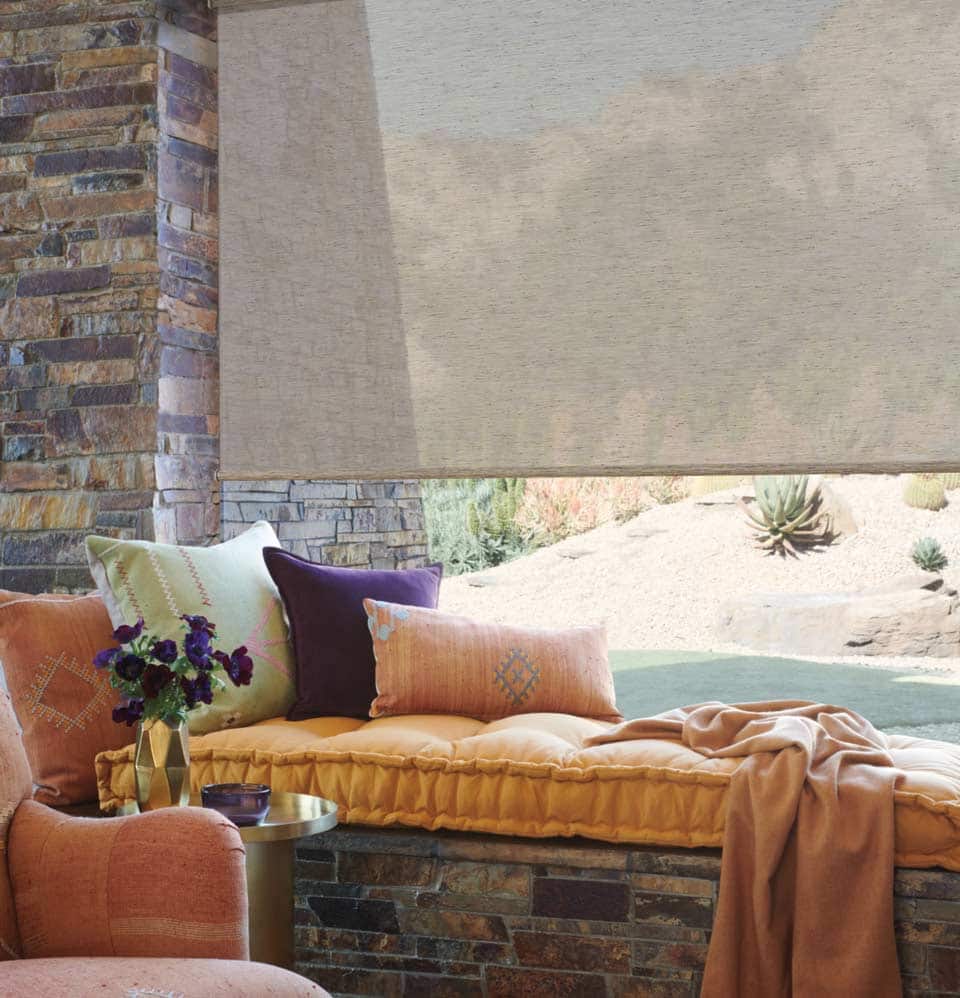 How Do These Double Roller Shade Systems Work?
Both systems provide two different fabrics in one window treatment:
The Dual Roller design has two rollers. There is a front roller with a sheer fabric that allows for more light, then a back roller (closest to the window) that provides light reduction and privacy.
The DuoliteÒ Double Fabric System also provides a front sheer fabric for more light, and a back darker fabric for light reduction and privacy – but both fabrics are on ONE roller. As Hunter Douglas describes their DuoliteÒ System, "The versatility of design and the genius of technological innovation come together to create the next generation of roller shades."
How Do These Custom Roller Shades Operate?
Just like with your options for fabric, you have many choices on control systems for opening and closing your roller blinds and shades:
The Custom Clutch System operates with a single beaded cord loop—simply pull on the cord to raise and lower the shade.
The Cordless System allows you to easily raise and lower the shade with an internal spring-assist control.
The UltraGlideÒ Lifting System uses a retractable cord that always remains the same length, whether the shade is raised or lowered.
The LiteRiseÒ System is cord free, with no worry about kids or pets playing with cords. Simply push the shade up, and pull the shade down.
Want a motorized control system? We also offer the SoftTouchÒ System that requires nothing more than a gentle push on the wand next to the shade. Or take the motorized control system one step further with the remote control of the PowerViewÒ Automation System.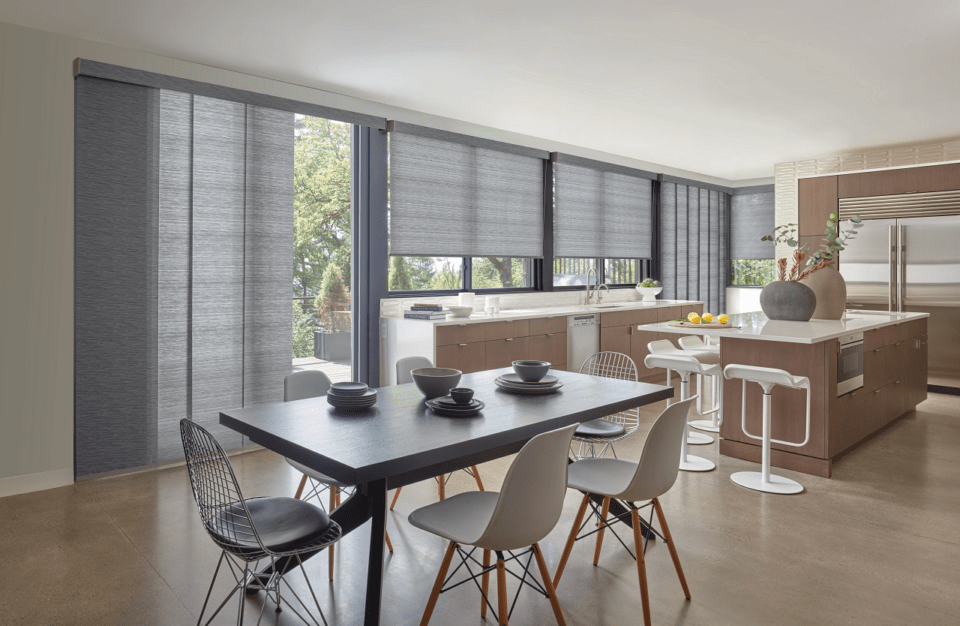 B & D Custom Blinds Is Your One Stop Shop for Roller Shades
B & D Custom Blinds can help you choose the right roller blinds and roller shades for your home. Come to our beautiful showroom in Tucson, Arizona, to see all the choices in fabric colors, patterns, and textures. We have trained experts that will professionally install your blinds, or we can provide the guidance you need to install your own. Any time you have questions, anything from choosing the right window treatment to measuring for your new blinds yourself, just give us a call or use our online contact page.
B & D Provides Support After the Sale and Installation
We are always here to help you at B & D Custom Blinds! If your shades are ever damaged, we can repair your blinds at a much lower cost than replacing them. And if you are no longer in the Tucson area, no worries—we also offer mail-in repair services!
Let us help you with all your window treatment needs. Come see our showroom or give us a call–TODAY!
Enhance Your Space with Custom Window Treatments