Skip to Content
Vertical Blinds Services in Tucson, AZ
The Best Modern Vertical Blinds in Tucson, AZ
Elevate your living spaces with B&D Custom Blinds' exquisite vertical blinds services in Tucson, AZ. Experience the perfect blend of design and functionality that transforms your windows into stunning focal points. Explore our offerings today and let us redefine your window treatments.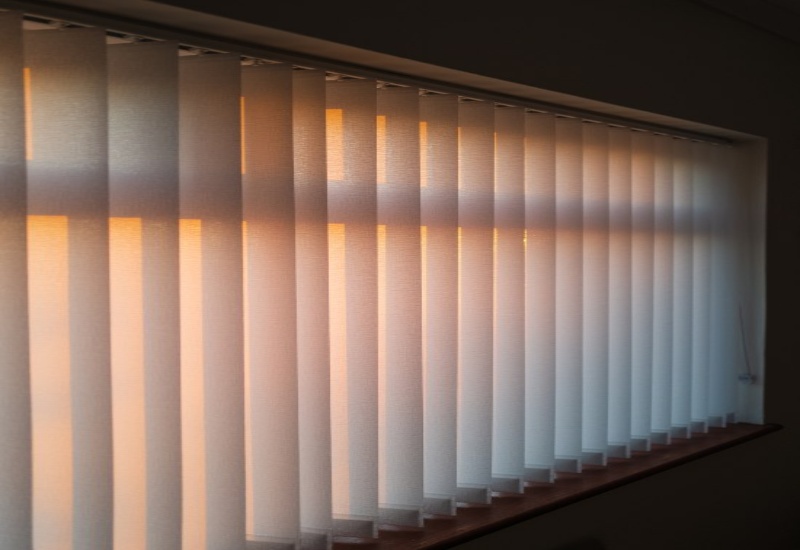 What Are Vertical Blinds?
Vertical blinds are a popular window treatment option characterized by their vertically oriented slats. These slats can be tilted to control the amount of light entering a room and can also be drawn to the side for unobstructed views. Vertical blinds are versatile and suitable for large windows, sliding glass doors, and spaces with high ceilings. They come in a variety of materials, colors, and textures to match different interior designs and provide privacy and light control while adding a touch of modern style to any space.
Advantages of Vertical Blinds
Vertical blinds offer several advantages that make them a popular choice for window treatments. The benefits include:
Versatile Light Control – Vertical blinds provide excellent control over the amount of light entering a room. You can easily adjust the angle of the slats to filter or block sunlight while maintaining privacy.
Suitable for Large Windows and Doors – These blinds are particularly well-suited for wide windows, sliding glass doors, and expansive areas. Their vertical orientation allows them to cover larger spaces effectively.
Unobstructed Views – When fully drawn to the side, window vertical blinds offer unobstructed views, allowing you to enjoy outdoor scenery without any hindrance.
Privacy – The ability to tilt the slats provides customizable privacy. You can maintain a clear view outside while preventing outsiders from looking in.
Range of Materials and Styles – Vertical blinds come in various materials such as fabric, vinyl, and faux wood, offering options that fit different décor styles. They can add a modern touch or blend seamlessly with traditional interiors.
Easy Maintenance – Cleaning vertical blinds is relatively straightforward. Dust can be easily wiped off the slats, and many materials are resistant to stains and discoloration.
Cost-Effective – Vertical blinds are often more budget-friendly compared to some other window treatment options, making them an accessible choice for many homeowners.
Durability – Depending on the material chosen, vertical blinds can be quite durable and able to withstand everyday wear and tear.
Energy Efficiency – Closing vertical blinds during hot days can help in reducing solar heat gain, contributing to improved energy efficiency in your home.
Customization – With various colors, patterns, and textures available, you can customize vertical blinds to suit your interior design preferences and enhance the overall aesthetics of your space.
Types of Vertical Blinds
Vertical blinds come in a range of types, each catering to specific preferences and needs. Fabric vertical blinds offer softness and a wide choice of colors and patterns, ideal for adding a touch of elegance. Vinyl vertical blinds are durable, moisture-resistant, and easy to maintain, making them suitable for high-humidity areas like kitchens and bathrooms. Faux wood vertical blinds mimic the appearance of real wood while being more affordable and resistant to moisture. Sheer vertical blinds combine the benefits of vertical blinds with the delicate light diffusion of sheer fabric, creating a gentle, filtered ambiance. S-shaped vertical blinds have curved slats for better light control and a modern, stylish look. The variety of types ensures that vertical blinds can be tailored to complement various interior designs and functional requirements.
Why Choose B&D Custom Blinds
Choose B&D Custom Blinds for a window treatment experience that combines expertise, quality, and personalized service. With a commitment to enhancing your living spaces, we offer a diverse range of blinds, shades, and shutters that cater to your unique style and functional needs. Our team of professionals is dedicated to guiding you through the selection process, ensuring you find the perfect solution for your windows. Backed by years of industry knowledge, we deliver products known for their durability and aesthetic appeal. When you choose B&D Custom Blinds, you're choosing unmatched craftsmanship, attention to detail, and a seamless journey toward transforming your home.
Contact B&D Custom Blinds
Need immediate assistance with your window treatment needs? Reach out to B&D Custom Blinds today. Our dedicated team is ready to promptly address your questions, concerns, and requirements. Whether it's a vertical blind repair, replacement vertical blinds, consultation, or any other query, we're here to provide the support you need. Contact us now for swift and reliable assistance.
Enhance Your Space with Custom Window Treatments