Skip to Content
Bathroom Blinds and Shades in Tucson, AZ
Providing Bathroom Blinds and Shades
There needs to be a delicate balance between privacy and natural light in your bathroom. If you want to find the perfect balance, B & D Custom Blinds carries a wide selection of bathroom blinds and shades for our Tucson, AZ customers. Since 1999, our family-owned and operated business has helped thousands of people find the perfect blinds, shutters, and custom window coverings. From installation to repairs, we're always here for you. We proudly sell premier Hunter Douglas elegant window treatments. We always welcome you to visit our showroom or schedule a "Shop at Home" viewing.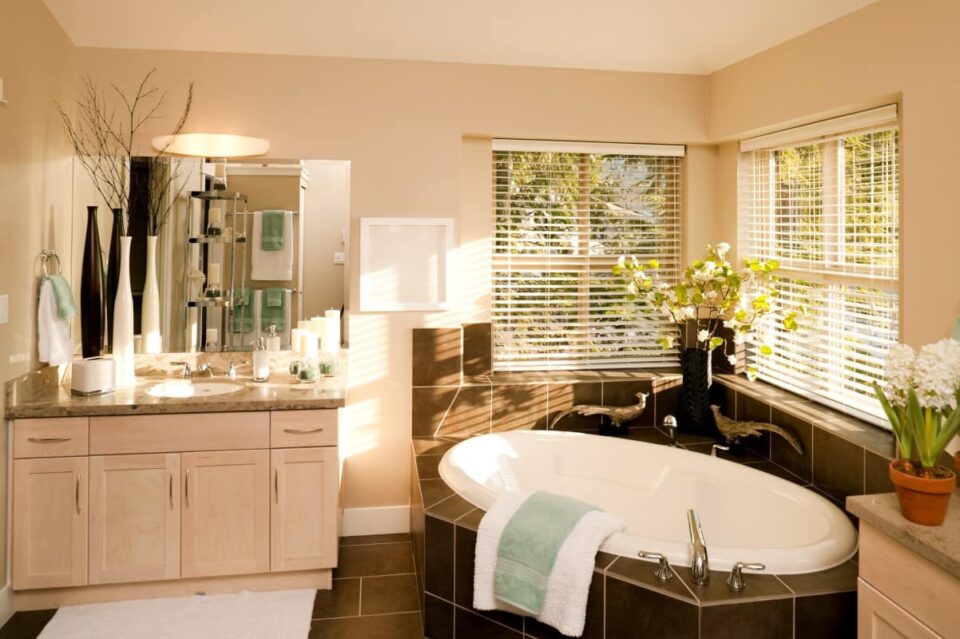 Considerations When Choosing a Bathroom Window Treatment
It's important to consider a few key things when choosing a bathroom window treatment, including:
Moisture Level –If you have a high level of humidity in your bathroom, it's best to select moisture-resistant window coverings.
Privacy Level –Privacy is essential in a bathroom, so choosing shades that allow privacy and let in enough natural light is critical.
Natural Heat –If your bathroom is naturally heated by sunlight, choose energy-efficient cellular shades or shutters.
Access –Many people choose automated shades for windows that are tough to access.
Types of Bathroom Blinds and Shades
We offer many different types and styles of bathroom blinds and shades. We have roller shades like our Sonnette™ Cellular shade with two layers of fabric, designer banded shades like our PowerView® smart shades controlled by your smartphone or SoftTouch® for ease of use, and our Silhouette® Window Shades for ultra privacy or Pirouette® Window Shades for a sleek design. If you love woven window shades, B & D Custom Blinds have styles like the Provenance® Woven Wooden Shades made from natural woods or our Duette® Honeycomb Shades offered in multiple options. When you want custom window blinds, check out our Somner® Custom Vertical Blinds. Our Modern Precious Metals® Aluminum Blinds give your bathroom the perfect stylish look and durable feel.
Different Looks for Your Bathroom
Bathroom blinds and shades add privacy and softness to the area. It's important to choose a window treatment that best fits your space. If your bathroom has warm tones, it's best to select an earth-tone fabric with complementing colors. Cool tones go best with slate blue or grays. Elegant bathroom styles include woven-texture shades like Alustra® Woven Textures® with neutral tones. White faux wood blinds like Hunter Douglas' EverWood® Alternative Wood Blinds are an excellent selection for easy-to-operate, gorgeous blinds. It's important to consider fabrics that stand up to moisture in your bathroom while allowing in natural sunlight.
What Makes Us Different
B & D Custom Blinds offers a level of customer service and professionalism. Our owners started this window treatment business to balance the lack of professionalism in the industry. We continue to strive to provide the best services and products possible. Our team is committed to helping customers find the best blinds and shades for their space.
Contact B & D Custom Blinds
Contact us when you're ready to find the best bathroom blinds and shades. We can show you our hundreds of styles of window treatments. We'll help you through every step, from your wide range of selections to final installation. Stop by or contact us today!
Enhance Your Space with Custom Window Treatments