Skip to Content
Beautiful Vertical Blinds for Your Home
Get the Blinds You Want
Vertical blinds are unique and can be used to accent the decor of your home or place of business. At B&D Custom Blinds, we not only provide you with vertical window blinds from the best brands in the industry, we can install them for you as well. Modern vertical blinds are versatile and are a solid option for almost any kind of window – especially large ones. But what exactly can vertical blinds do for your home? How do they work? We would love to answer all of your questions, so don't hesitate to reach out to us!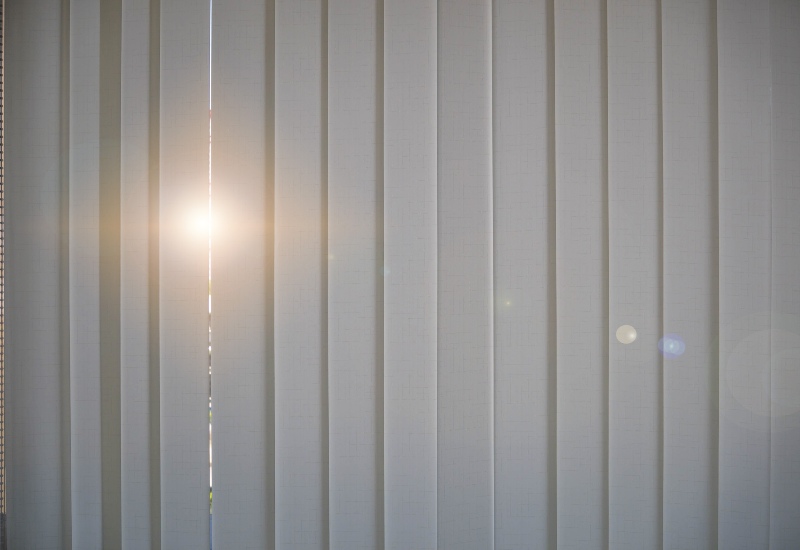 How Do Vertical Blinds Work?
The basic idea behind vertical blinds is that they are opened and closed by moving them side to side. This is opposed to traditional blinds that are pulled upward and dropped down in order to open and close them. Vertical blinds for windows come in different varieties, such as:
Crank Operated – These are usually used when the window is in an awkward space. As the name implies, these vertical blinds are opened and closed by turning a fixed or detachable hand crank.
Chain Vertical Blinds – With this variation, a chain is used to control the blinds. The chain is usually accompanied by a cord that can be pulled to open/close the individual slats.
Mono Chain Blinds – This system consists of a single chain mechanism that controls the side-to-side movement of the blinds.
Electric Vertical Blinds – These run off of an electric motor and are usually controlled via remote. You can open and close these kinds of blinds with the push of a button.
Wand Operated Blinds – A single wand hangs down from the side of the blinds that can be manually pushed/pulled to open/close the blinds. The wand guides the blinds along a track in both directions.
Advantages & Benefits of Vertical Blinds
There are many advantages to having vertical blinds installed in your home or place of business. Here are just a few of them:
Great for Large Windows – Vertical blinds are great for large windows and sliding doors because they are lighter than Venetian blinds and allow for better light control.
Sound Absorption – Vertical blinds offer better sound absorption to block out outdoor noise pollution.
Larger Appearance – Because they stretch from the floor (or near the floor) towards the ceiling, vertical blinds can make a room seem bigger.
Easy Cleaning – It's much easier to clean vertical blinds with a cloth or even a vacuum than it is to clean traditional blinds.
What colors are available?
You can get vertical blinds in virtually any hue, from light to dark.
Which rooms are suited for vertical blinds?
Large rooms where a lot of natural light can pour in or be blocked out are best for vertical blinds.
Are there blackout vertical blinds?
You can get vertical blinds outfitted with blackout fabric.
Are vertical blinds safe for children?
There are a variety of cordless and chainless vertical blind systems that are safe for children.
How do you clean vertical blinds?
Vertical blinds can be cleaned with a soft cloth, warm water, and mild detergent. You can also vacuum vertical blinds.
Are the controls on the right or the left?
You can get vertical blinds with the controls on either the left or right side.
We're Here to Help
B&D Custom Blinds is a full service window dressing company. You can count on us for blind installation, blind repair, and mail-in repair services. We separate ourselves from other blind suppliers in Tucson, AZ, because of our keen attention to detail and our genuine desire to help homeowners find functional and elegant window dressing solutions. We are a family-owned company in the Tucson area and have been in business since 1999. B&D Custom Blinds started out as a husband-wife team, and Brian and Donna still own and operate the business. Top-tier workmanship and experience are the hallmarks of our service.
Contact B&D Custom Blinds
For more information on vertical blinds, or to have all of your window dressing needs to be met under one roof, visit us today!
Enhance Your Space with Custom Window Treatments