Skip to Content
Blind Installation Services in Tucson, AZ
Custom Blind Installations from B & D
B & D Custom Blinds offers blind installation services for homeowners in Tucson, AZ. Custom window blinds can add to any room's aesthetics and offer several benefits. It's critical to control the amount of sunlight that enters your home, especially during the summers in Arizona. Vertical blind installation gives you the ability to control the amount of sunlight entering any room so you can create the atmosphere you prefer while saving money on cooling costs. Window blinds are a great way to add style to your home. Our custom window blinds are installed by our experienced experts and are available to view at our showroom. We have many options available, so you're sure to find the perfect addition to your home. Our team can help you make design decisions and can also repair your current blinds if you prefer. Learn more about our window blind installation services and contact us to schedule an appointment.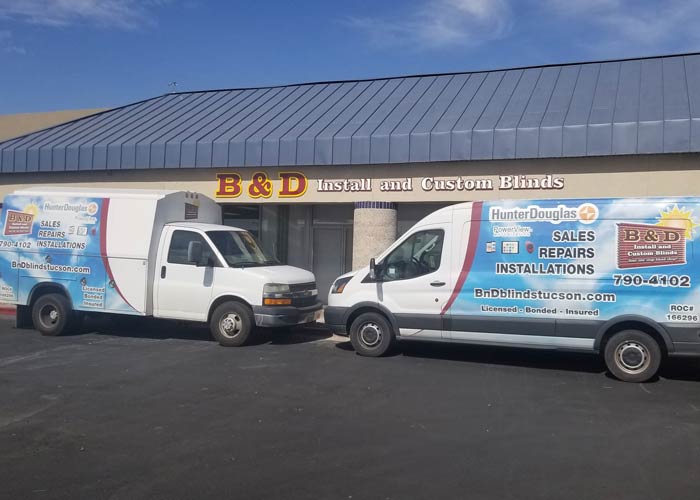 Professional Blind Installation Services
You may be wondering why you shouldn't install window blinds yourself. When you trust our dedicated experts for custom blind installation, you can rest easy knowing the job will be done right and your blinds will be fastened safely and securely. Our team uses precision and takes accurate measurements of all windows to ensure the ideal fit and height for your custom blinds. We offer quality installation services, saving you time and frustration. Our team is equipped with all the right tools and knowledge to install your blinds in a fast and efficient manner.
Types of Window Blinds We Install
Many homeowners ask us which blinds are best for their homes. The answer to that question depends on your individual style and needs. B & D Custom Blinds has a wide variety of styles and options, and our team is ready to help you choose the best blinds based on your taste, budget, and lifestyle. Learn more about some of your options when it comes to window blind materials:
Faux Wood Blinds – Custom faux wood blinds combine the warmth and allure of natural wood with the affordability, stability, and lack of maintenance homeowners love. Faux wood blinds are a great choice, offering a durable option for kitchens, bathrooms, and laundry rooms. Faux wood blinds hold up in rooms that are often damp or humid.
Aluminum Mini Blinds – If you have oddly shaped windows or windows that are smaller or narrower, you will do well to consider aluminum mini blinds. These blinds feature lightweight construction and add aesthetic appeal to any room in your home. Aluminum mini blinds are inconspicuous and functional. They're available in many colors and finishes.
Wood Blinds – If you want to add an upscale elegance to any room in your home, choose real wood blinds. Wood blinds can be customized with stains to match any décor style or enhance your home's look and feel.
Motorized Blinds – Technology can go a long way when it comes to your home's window treatments. We have window blinds available in multiple colors, styles, materials, and finishes. Motorized blinds are safe and convenient. You can control them with a remote or an app on your smart device. Being able to open or close your blinds automatically adds security and energy efficiency.
Blind Installation FAQ
We know you have questions about window blinds for your home in Tucson. Check out the answers to the questions we frequently receive:
How much do window blinds cost?
The average cost for blinds varies from project to project. The average price will depend on the size of your windows.
Which blinds provide the most privacy?
All blinds offer levels of privacy for both residential and commercial properties. The blinds that provide the most privacy are blackout blinds. They block all light from entering your room and also obstruct the view of people attempting to look in your windows. Blackout blinds are available in multiple colors and materials. They're an excellent option for broad or large windows and are budget-friendly.
Which window blinds are safest for kids and pets?
It's understandable to worry about your kids or pets when it comes to traditional blind lift cords. They may present choking hazards for small children and pets in your home. For that reason, the safest type of window blinds for kids and pets are motorized blinds or cordless blinds. Our team can help you upgrade your corded window blinds to safer, cordless models. These are recommended in rooms such as nurseries, children's bedrooms, and playrooms.
Choose B & D for Custom Blind Installation
When you choose the window covering experts at B & D Custom Blinds, you can rest easy knowing that all our installation vans are well stocked with the proper tools and fasteners to get the job done right. We can install blinds into brick, block, and steel without a problem. Contact us today to learn more or schedule installation.
Enhance Your Space with Custom Window Treatments